Kari Baynes has had an impressive career in the media industry with roles including Head of Business Development, Group Advertising Director, and Project Lead for News Corp Australia. Throughout her 25 year career holding senior strategic leadership roles, balancing health, well being and fun has been critical to her success. In 2010 Kari took up swimming to improve her fitness and reduce stress. Recognising a gap in the fitness and well being market in areas such as learn to swim, continuous stroke correction and structured recreational pool and open water swimming, Kari established Different Strokes Swimming. Kari's vision is to assist all adults, no matter what age or skill, to find their own zen with swimming. Kari holds an AUSTSWIM Teacher of Swimming and Water Safety licence as well as ASCTA Teacher of Competitive Strokes licence. When she's not teaching or developing Different Strokes Swimming, Kari loves to swim in marathon events. In 2019 she competed in the 10km Lake Argyle Swim (in a quad team), the Thames Marathon which is a 14km swim (solo) and the Mana Island 10km swim (solo).
Aside from swimming she enjoys writing.
Jenny Davidson has been teaching Learn to Swim classes for eight years. She is passionate about helping adults become water safe and develop a love for swimming. Jenny feels the most important part of learning to swim is to become comfortable in the water, to enjoy moving through it rather than resisting it. Jenny is a holder of an AUSTSWIM licence, Teacher of Water Safety and Swimming. When she's not near the water, Jenny is sewing tutus and making tiaras.
Michelle Cowans is extremely passionate about helping people achieve their swimming goals. She has been a swimmer all her life competing in open water events, such as the 9km Sri Chinmoy National Capital Swim. Michelle is also a volunteer surf lifesaver and a keen hiker. When she's not swimming or hiking she works in adult education, in the Adult Migrant English Program, which she just loves. Michelle is a qualified AUSTSWIM Teacher of Swimming and Water Safety. She is thrilled to be part of the DSS team.
Mel Alderton has been a qualified swimming instructor since 2000. Mel was an adult learner herself, so she really understands the process an adult swimmer goes through in learning to swim. As a triathlete, she has a particular interest in stroke correction, and assisting swimmers in getting the best they can out of themselves. Mel's qualifications include AUSTSWIM Towards Competitive Strokes and she recently acquired her ASCTA Bronze Coaching qualification.
"If you told me as a teenager that the swim would be my favourite part of the triathlon, I would have said you were crazy! Everyone can learn to swim." – Mel.
Coach Paul Myatt has been a swimming instructor & teacher for many years. His background is in education so assisting you in developing your swimming skills is one of his passions. He has taught hundreds of adults to swim so they can become confident and competent in the ocean, surf or pool.
Paul is known for his gentle and caring personality but he makes all his athletes put in the work. He's coached everyone from beginners to world champions. He is not only a holder of a ASCTA Bronze Licence, but is also an accredited Triathlon coach, coaching teams for the Can Too Foundation and other groups.
As a competitive swimmer for more than 35 years, Coach Christina Echols has been a member of eight different swim clubs, with more than twelve coaches. She has learned from many coaches and has come to realise some key differences when it comes to coaching adults – including career demands, recovery time, common injuries in the ageing athlete, and working with adults to introduce them for the very first time to competition. 
With years of experience as a swimmer, she is not not only able to apply what she has learned from her many coaches, she is also able to integrate basic exercise physiology principles from her physiotherapy background to provide coaching to swimmers that will challenge them physically, prepare them for competition, and give them a fun and social environment to gain these skills in.
Her general approach during a session is direct and clear communication with an expectation of swim etiquette so that all swimmers in the pool enjoy themselves while getting both swim fit and race fit.
Peta Kilgour runs our Open Water Training Program at Balmoral Beach. Peta is a qualified ACSTA Silver Licensed Coach, Open Water Coach, has a Certificate 4 in Personal Training and also has degree in Traditional Chinese Medicine. She has over 16 years swim coaching experience, was a competitive swimmer and is totally passionate about swimming in the ocean. Mentored by both Charm Frend (our very own Coach Charm) and Graeme Brewer (Olympian, Commonwealth Games swimmer and swim coach), Peta is all about encouraging swimmers into the open water.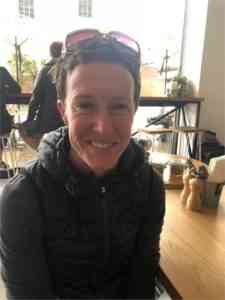 Since 2007, Shayne Collier has participated in just about every ocean swim on the open water swimming calendar! These include the classics: the Big Swim from Palm to Whale Beach, the Coogee Island Challenge, Bondi to Bronte and the Byron Bay Ocean Swim Classic. A desire to share her love of the ocean and swimming led her to Different Strokes Swimming, where she gets a kick out of helping beginner through to intermediate students achieve their goals and dreams. Shayne is qualified as an AUSTSWIM Teacher of Swimming and Water Safety. When she isn't in the water, Shayne pursues her passion for writing contemporary fiction.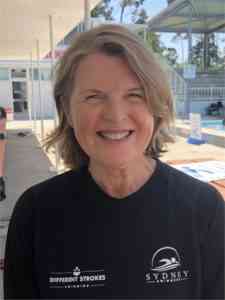 Barry Alderton has been a keen recreational swimmer for over 30 years, having taken it up to counteract several back issues. Over the years, he has developed a passion and interest in improving his swimming and learning as much as he can about the sport. As such he understands the needs of the adult learning, and adults with chronic and acute injury. He has participated in several Half Ironman events in the swim and cycle legs, and several open water events.
He has shared his wife's passion for swimming teaching over many years and is looking forward to bringing his previous experience coaching other sports and in corporate training and management, to the fore, in helping deliver the quality swimming programme at Different Strokes Swimming. He is an AUSTSWIM qualified Teacher of Swimming and Water Safety.
After years of being a lifeguard in the UK working all around the country, Jade Lish moved to Australia to pursue the coastal lifestyle. She is a qualified AUSTSWIM Teacher of Swimming and Water Safety and first aider, with plenty of teaching experience. 
Jade loves being in water, being in a swim squad herself and regularly ocean swimming on the weekends. She loves helping adults overcome their fears in the water and watching them make huge improvements and progressions, often without them even realising it. She likes to have a lot of fun teaching at the same time! 
Pat McDonough learnt to swim in a Balmain tidal pool (now called the Dawn Fraser Pool) as a child. She later joined the Balmain Swimming Club and swam competitively for 10 years. She stopped swimming competitively as a teenager but returned to swimming as an adult and has not stopped since! She is extremely passionate about adults learning to swim, and embracing the social and health benefits of swimming. Pat is a holder of an AUSTSWIM licence, Teacher of Water Safety and Swimming. One of her beginner students told Pat her goal was to be able to attend her work Yacht Christmas party, jump off the side of the boat and swim back to the boat and survive. It became the class goal. She thinks that is a worthy goal!